So You Think You Know Opera?
Over-dressed divas screaming in foreign languages? Nope! An endlessly-long night out with stuffy audience members? Nope! Very expensive tickets just to hear some singing? Nope! Archaic characters and stories that I could never relate to, let alone my kids? Nope!
SYTYKO is a 45-minute presentation for schools and organizations that aims to dispel all the myths and pre-conceived notions you may have about opera, the greatest of all art forms.
Write ArmstrongVocalStudio@gmail.com now to discover how to enhance any music program.
Students help tell the story, in a foreign language most will have just learned minutes before, bringing the characters and music to life in an unforgettable, shared experience that will provide fodder for discussion for weeks.
No microphones here. Students will use their bodies to create sounds and rhythms, and learn the true meaning of "acoustic."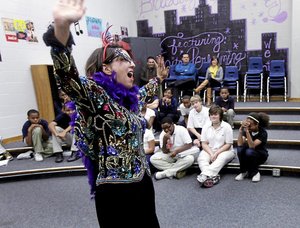 Opera, truly is the greatest of all arts forms, with something for everyone. Painters, poets, woodworkers, electricians, lighting designers, composers, conductors, educators welcome! Students learn of endless opportunities for expressing their talents, whatever they may be.